Hewlett Packard Decade Counters AC-4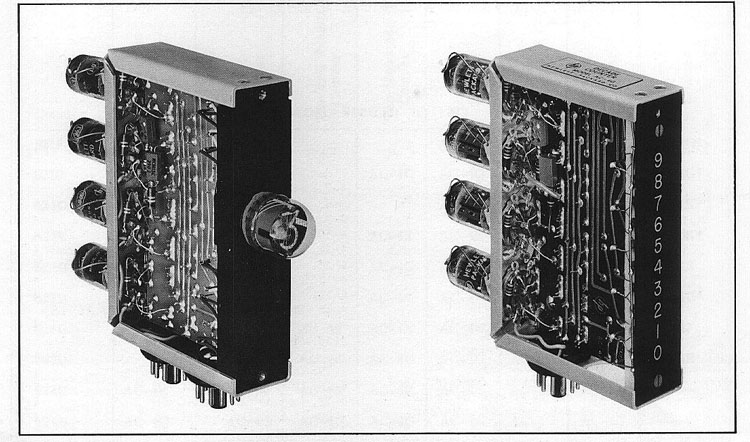 This page contains the contents of the HP manual that describes the AC-4 series of decade counters. These counters each have four tubes arranged in a divide-by-10 binary counting circuit and some means of displaying the count, either on a neon thermometer-style display or on a Nixie tube.

There are six different styles of counter module described in this manual: AC-4C, AC-4E and AC-4G (thermometer), and AC-4J, AC-4K and AC-4L (Nixie). The AC-4A and AC-4B are described in a different manual that's available on the BAMA website, so go there for those modules.

The manual has an introduction, five sections, an appendix and covers. Each of these is numbered separately - there are no absolute page numbers in the manual.

Here is a PDF file of the entire manual. It's 20 Megabytes big.

I have provided a set of links to allow you to download only the pages relevant to your counter style, since each page is about 400K bytes and you wouldn't want to download 10 megabytes of useless data. Download as much of the common data as you like; the cover is only of historical interest.


Common data for all counters
Front cover
Inside front cover - Certification
Title page
Table of Contents
Description
Installation page 1
Installation page 2
Circuit Description page 1
Circuit Description page 2
Maintenance page 1
Maintenance page 2
Maintenance page 3
Maintenance page 4
Maintenance page 5
Appendix - Manufacturer Codes page 1
Appendix - Manufacturer Codes page 2
Inside rear cover - Warranty
Rear cover
AC-4C 220kc thermometer display
Specifications
Photo, circuit side
Photo, component side
Mounting dimensions
Schematic Diagram
Parts page 1
Parts page 2
Parts page 3
Parts page 4
Parts page 5
Parts page 6
AC-4E 1.2mc thermometer display
Specifications
Photo, circuit side
Photo, component side
Mounting dimensions
Schematic Diagram
Parts page 1
Parts page 2
Parts page 3
Parts page 4
Parts page 5
Parts page 6
Parts page 7
AC-4G 120kc thermometer display
Specifications
Photo, circuit side
Photo, component side
Mounting dimensions
Schematic Diagram
Parts page 1
Parts page 2
Parts page 3
Parts page 4
Parts page 5
Parts page 6
AC-4J 1.2mc Nixie display
Specifications
Photo, circuit side
Photo, component side
Mounting dimensions
Schematic Diagram
Parts page 1
Parts page 2
Parts page 3
Parts page 4
Parts page 5
Parts page 6
Parts page 7
AC-4K 120kc Nixie display
Specifications
Photo, circuit side
Photo, component side
Mounting dimensions
Schematic Diagram
Parts page 1
Parts page 2
Parts page 3
Parts page 4
Parts page 5
Parts page 6
AC-4L 220kc Nixie display

Specifications
Photo, circuit side
Photo, component side
Mounting dimensions
Schematic Diagram
Parts page 1
Parts page 2
Parts page 3
Parts page 4
Parts page 5
Parts page 6


Created by David Forbes on Jan. 31, 2009